The island of Key Largo, the northernmost and longest of the Florida Keys, is a top destination for divers and snorkelers alike. Bordered by Florida Bay and the Atlantic Ocean, the self-titled Dive Capital of the World is home to the first undersea park in the U.S., John Pennekamp Coral Reef State Park. This subaquatic treasure features 70 nautical square miles of sparkling turquoise waters and the shallow-water living coral reefs of the Florida Keys National Marine Sanctuary – the only living coral barrier reef in North America and the third-largest living coral reef in the world.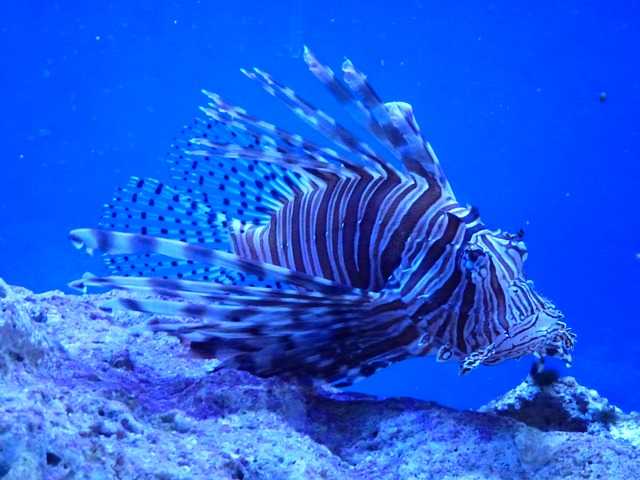 Key Largo is a favorite spot for snorkeling, thanks to its warm waters and abundance of marine life. It's also an attractive destination for snorkelers who are new to the sport and want a fairly easy and accessible place to get started. The island is blessed with some 20 miles of clear oceanfront views and several excellent spots where beginners can try their hand at snorkeling while still in relatively shallow water. Among these prime snorkeling areas:
John Pennekamp Coral Reef State Park
For first-time or novice snorkelers, there's no better place than John Pennekamp Coral Reef State Park, just off Key Largo. Home to one of the most extensive living coral reefs in North America (and only the third largest reef on Earth), the park is a living memo of what much of Florida looked like before it was covered with fast food chains, golf courses and strip malls.
The water in Key Largo itself is exceptionally clear thanks to an abundance of marine life that filters it naturally; you're likely to spot barracuda, stingray, schooling fish and more on every snorkeling adventure. The shallow reef at Pennekamp is home to thousands of species of fish, invertebrates and plants; visitors can navigate around the reef by boat or kayak (rentals available) or simply stroll along one of two marked underwater trails. A special section known as Hawk's Nest offers extra opportunities for viewing sea turtles up close.
Over near the aptly named Conch Reef, you'll find the three-story Markers of Discovery: large yellow and orange certerpieces that mark the path along a designated snorkeling trail.
Aquarius Underwater Laboratory
Located just outside John Pennekamp Coral Reef State Park and in the same marine sanctuary, Aquarius is the world's only underwater research laboratory and has snorkelers flocking to it regularly since its opening in 1986. People have called this unique aquatic habitat home for up to 10 days at a time while performing research on nearby coral reefs – an experience that visitors to get very close to marine life without ever getting wet.
The lab itself sits 60 feet underwater with about 40 square feet of living space comprising six separate chambers filled allow for special pressurized accommodations for the scientists. There is also a wet porch where divers and snorkelers can enter and exit, as well as an atmospheric control room, storage space and a very small sleeping chamber.
Adventures in Diving is one of many snorkeling tour companies operating out of Key Largo that provide transportation to Aquarius at reasonable rates; they also offer guidance on how to use scuba equipment for those looking to try it out underwater.
Miller's Homestead and Everglades National Park
Snorkelers who want to enjoy a more natural environment without straying too far from civilization should head out on a trip to the nearby mangrove estuaries of southern Florida. These secluded swamps are home to an abundance of fish, crustaceans and sea turtles that thrive in the salty but sheltered waters; visitors can spot these creatures through shallow-water snorkeling or just by wading into ankle-deep water.
A guided tour service called Wild Side Specialty Tours offers boat trips through the mangroves with experienced guides who also know several underwater trails for snorkeling.
The Everglades Wildlife Refuges near Miami are another great place to spot fish, turtles and stingrays. A half-hour ride on the specially designed Safari Bus leads visitors through the 10,000 acres of sawgrass marshland plus hardwood hammocks full of gators, birds and exotic wildlife found in only two other places on Earth.
Snake Bight Trail
Close by Everglades National Park is another popular fishing trail called the Snake Bight Trail; it offers more than three miles of shallow water habitat for snorkelers of any skill level. The underwater trail has several parts including an observation deck, a reef passageway and a mangrove shoreline path where divers can see sharks, nurse sharks, grouper and tarpon swimming among mangroves that help shelter the area from extreme weather.
Snorkeling is a fun and safe way to get a better look at what lies beneath the surface of our oceans, bays and estuaries year-round, although novices should be careful about going it alone in areas with strong currents or deeper water. But if you want to keep your distance from larger marine life, inquisitive dolphins and curious sharks, Key Largo has enough shallow reefs to keep newbie snorkelers satisfied while still allowing advanced seekers some exciting opportunities too.
Does Key Largo have good snorkeling?
Yes, it is an outstanding place to snorkel. The water is very clear and there are many opportunities for you to explore coral reefs and shipwrecks without getting into the depths of the ocean. There are also plenty of businesses that offer guided snorkeling tours through designated underwater trails. This means that if you want to make sure you don't get lost and stay safe while exploring, Key Largo has everything you need in order to have a great experience.
Is it good for beginners?
Yes, Key Largo is a great place for beginner snorkelers because most activities take place at the surface so you won't have to worry about being too deep or having poor buoyancy control. You can easily see what's under the water and if you get tired, there are guides to take care of you so you don't have to worry about finding your way back home.
Is it good for children?
Key Largo is a wonderful place for kids because most dives and snorkeling tours involve shallow waters that will allow them to explore without getting into trouble. It is also pretty common for tours to provide guides who are specially trained to help children or inexperienced snorkelers stay safe while exploring the reefs and trails.
Is it good for groups?
If you want to come with a group of friends, Key Largo provides many options if you're looking for guided tours. The companies that offer tours are accustomed to having larger groups of people on their boats so you don't have to worry about coordinating too much with the guide. Just remember that most companies require reservations before coming, especially for large groups.
Where can I snorkel in Key Largo?
There are many places in Key Largo where you can snorkel, such as John Pennekamp Coral Reef State Park and the Everglades National Park. There are also snorkeling trails designated by the Department of Environmental Protection in order to make sure people stay safe while having fun. These areas make it easier for companies to offer guided tours because they already have trails mapped out where you can snorkel and explore.
How much does it cost to snorkel in Key Largo?
Most guided snorkeling tours cost $30-50 per person depending on how big the group is and if there are any special requirements. If you're outside of the boats' operating hours, most companies charge a fee for showing up and not being able to go out on a boat.
Which key is best for snorkeling?
Key Largo is the best key for snorkeling because it has so many reefs and trails within close proximity of each other. This makes it easy for beginners to find shallow waters and advanced snorkelers can still go out further and explore more challenging reefs.
Snorkeling is a fun and relatively safe activity that you can enjoy with your friends or family throughout the year, as long as you're not venturing too deep into oceanic waters. Key Largo provides great opportunities to explore the water's depths and receive personalized attention that will help you stay safe while learning about what lies beneath.
Is Key Largo better than marathon?
Yes, Key Largo is a better place to snorkel than Marathon because there are many reefs and trails within close proximity of each other. This will make it easier for you to find shallow waters without getting too far away from guides.
Key Largo provides amenities such as beaches, boat tours, restaurants, museums, and alligator farms that will make it easy for you to spend the entire day at the keys. Marathon, on the other hand, is only known for scuba diving and snorkeling so there are fewer places to go within Key Largo if you don't want to commit all of your time to exploring underwater.
Is snorkeling in the Keys Safe?
Yes, snorkeling in the Keys is safe as long as you are with a guide or tour company. Most guides are trained to be aware of certain dangers you may not spot if you're new to exploring reefs and hidden trails, such as dangerous riptides that could sweep away small children.
Are there sharks in Key Largo?
Key Largo does not have any sharks that are known to pose a threat to humans. However, there are other fish in the water that might be poisonous or dangerous if you get too close or step on them.
Are there sharks at Sombrero Reef?
There are no sharks at Sombrero Reef. However, there are other fish that may pose a threat to you or children who aren't being properly supervised by adults.
Are there sea urchins in Key Largo?
Yes, there are sea urchins in Key Largo and throughout Florida Keys National Marine Sanctuary. These spiny creatures are often mistaken for rocks, but they will sting if you step on them or get too close.
How deep does Key Largo go?
The deepest point in the Florida Keys is at Sombrero Reef where it reaches a depth of 100 ft. You can also snorkel closer to shore and stay in water that is only waist-deep. This will be helpful for small children or beginners who are still learning how to snorkel and adjust to breathing through a mask.
How long does Key Largo go for?
Key Largo is the longest key at 37 mi long, making it the ideal place to spend an entire day exploring as many reefs and trails as possible. The other keys are much shorter, so you'd have to continuously move around and go from one key to the next if you wanted to experience snorkeling in more than one area.
Does Key Largo have alligators?
Yes, there are a few alligators in Key Largo. These creatures will usually stay away from humans and only become dangerous when they feel threatened or cornered.
What kind of fish live in Key Largo?
Fish that live in Key Largo include nurse sharks, barracudas, mackerels, grouper, squid, urchins, snappers, bat rays, crabs, lobster, and octopuses.
What kind of plants are in Key Largo?
Plants that can be found in Key Largo include goldenrod tree flowers and black mangrove trees with red prop roots.
What kinds of birds live in Key Largo?
Famous Key Largo birds include the blue heron and the snowy egret, both of which can be spotted near water or perched on rocks.
Is snorkeling in Key Largo free?
No, you will have to pay a fee for guided snorkeling tours in Key Largo. However, you are required to have a fishing license if you are 16 years or older and wish to snorkel off the coast of Florida.
Is Largo the same as Key Largo?
Largo is a city in Florida, but it's not the same place as Key Largo. The two are about an hour apart by car so you'd have to drive around the bay to get from Largo to Key Largo.
Is it safe to snorkeling in the Florida Keys?
Yes, snorkeling in the Florida Keys is safe as long as you are with a tour company or guide. Many companies offer free pick-up and drop-off at your hotel so you won't have to drive anywhere.
You can go on a Key Largo boat tour if you don't own a mask, fins, and snorkel. There are no dangerous jellyfish in Key Largo.
What is the best way to get there?
The best way to get there is by renting a car at the Miami International Airport, which will allow you access to all of the keys without worrying about changing transportation modes.