I have been lucky enough to have visited Miami a few times. It is a wonderful place, full of interesting attractions and a great night life.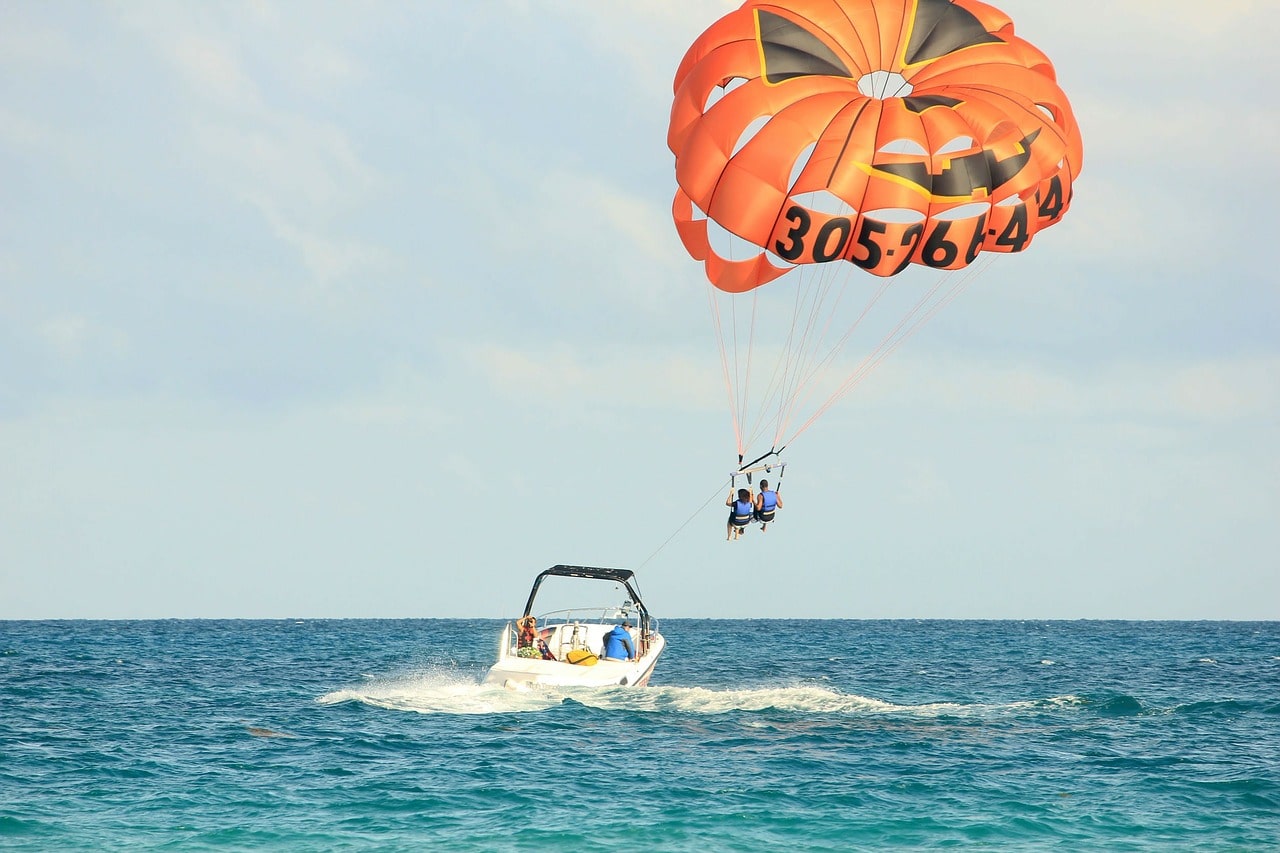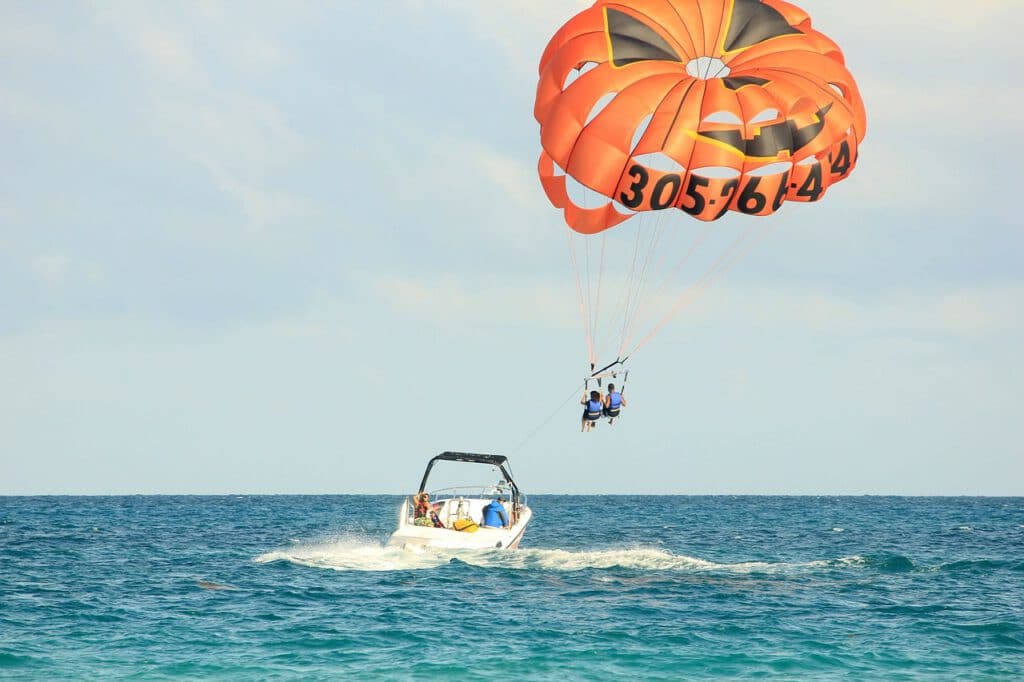 The one thing that I always wanted to do there was parasailing. I had never done it before and thought it would make for some amazing photos from the sky. However, despite searching high and low, I was unable to find a company that offered the service in all of Miami.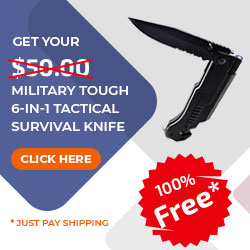 It turns out that parasailing is not as popular as other sports such as jet skiing or banana boating. A quick search on google will show that most operators are located near the keys just south of Dade County. However, on my last trip I had more luck. While walking along the beach in Miami Beach I scrolled across some parasailing flyers. They were advertising some great rates and were located just north of downtown miami near the Port of Miami.
When we arrived at the launch point we all got suited up into our life jackets and onto the boats. This was a great experience because it allowed me to see what I had been missing out on in all my previous trips to Miami. Although they only ran the parasailing service in the early afternoon, which was a bit of a downer, it was still an amazing experience and one that I would recommend to anyone going to Miami in the future.
I highly recommend you give parasailing a try when in Miami. It is an exhilarating and unique way to see the coastline of Miami and its beautiful beaches from a high in the sky perspective. Although the afternoon only operation time was a bit disappointing, it was still great to get out on the water and get some amazing photos of Miami's beautiful beaches.
The other bummer about the parasailing company was that they did not offer to take you back to your hotel when you were done, unlike most other water sports companies in Miami. This meant an expensive taxi ride was required.
How much does it cost to go parasailing in Miami?
A Miami parasailing experience will run you around $80 per person. It is a bit more pricey than other companies but the price is determined by 3 factors: (1) where you go, (2) how long you stay out for and (3) if there are any extra charges such as having your photos taken with a professional photographer.
The cheapest rates will be found near the keys and not in Miami Beach. It is also cheaper because you only spend about 10 minutes in the air at a time and they don't require a longer stay so they can get more people out on the boat and back to shore quickly. While its an amazing experience, it is not worth paying more than $80.
The most expensive rates will be in Miami beach, because they need longer to get out into the water and back due to there being less room for boat launches near the shore. It is also worth checking if any additional fees are included in your rate (such as photos or video of you in the air).
Finally, you need to consider how long you will be staying in Miami and whether or not it is worth paying a bit extra for an extended parasailing tour. If you only have one day to visit Miami and want to go on some fun activities like jet skiing, banana boating or shopping at Coconut Grove I would recommend booking a half day tour. This will be around $100 for one activity and you can pretty much guarantee that Miami Parasailing is going to have the best rates in town. If you have a few days to visit Miami or want to go on 2 activities I would suggest finding a full-day package as it will save you money on transportation.
How old do you have to be to parasail in Miami?
Parasailing is not a sport for the faint hearted and you must be at least 16 years old. This requirement is mainly because of the high speeds that can occur during take-off and landing. If an emergency was to happen, such as the boat running into trouble or needing to cut your ride short, then it would be much safer if you were over 16 rather than under.
Beyond this age requirements there are no other maximum or minimum requirements (ie: height and weight). I know people who have flown as young as 8 and as old as 80+ but everyone has their own comfort level with regards to physical strength and mental toughness. At any rate, parasailing is one activity in Miami where even kids can fly – adults just fly higher.
How much does parasailing cost?
The price to parasail will always depend on the company you choose, where they operate out of and how long you stay in the air. Prices can range from $60 all the way up to $100 per person.
Where do you go parasailing in Miami?
Miami Parasailing operates out of two main locations: (1) south beach (located at 12th/13th street) and (2) Hollywood beach. South beach is typically less popular than Hollywood so it is around $10 cheaper but also offers a shorter ride time of approx 10-15 minutes because they need to get more people on and off quickly due to there being fewer boat launches. If you want more time or are looking for an extended tour then I would recommend Hollywood beach.
For the best rates you need to check out the following locations: Miami Beach Marina, Pompano Pier and Las Olas Blvd. Just keep in mind that these are only the most popular places to parasail but there are many other areas where they operate from including Key Biscayne, Sunny Isles, Port of Miami and Key Largo. You can also try googling "Miami parasailing".
How to choose the best Miami Parasailing Company?
The simplest way to find the best rates is to ask for a price from every company you can find that operates out of your chosen location. Just keep in mind that some companies might not be willing to quote over the phone and you will need to book in person instead, but I have found that most are happy with this option. You can then narrow your choices down by finding out how long they have been operating and what kind of safety record the company has.
The last thing you should do is to take a look at their website and find out if they offer any freebies or discounts such as photos/video of your ride, T-shirts or complementary beverages for those hot days. And that is it – easy as pie!