Having just returned from an epic summer vacation, I wanted to share my Myrtle Beach parasailing experience with everyone. Parasailing is one of those activities that you have likely seen friends post about being a part of in the past, but never took the time to stop and ask them what it was really like. Now that I have experienced parasailing for myself, I can share my parasailing Myrtle Beach experience with you.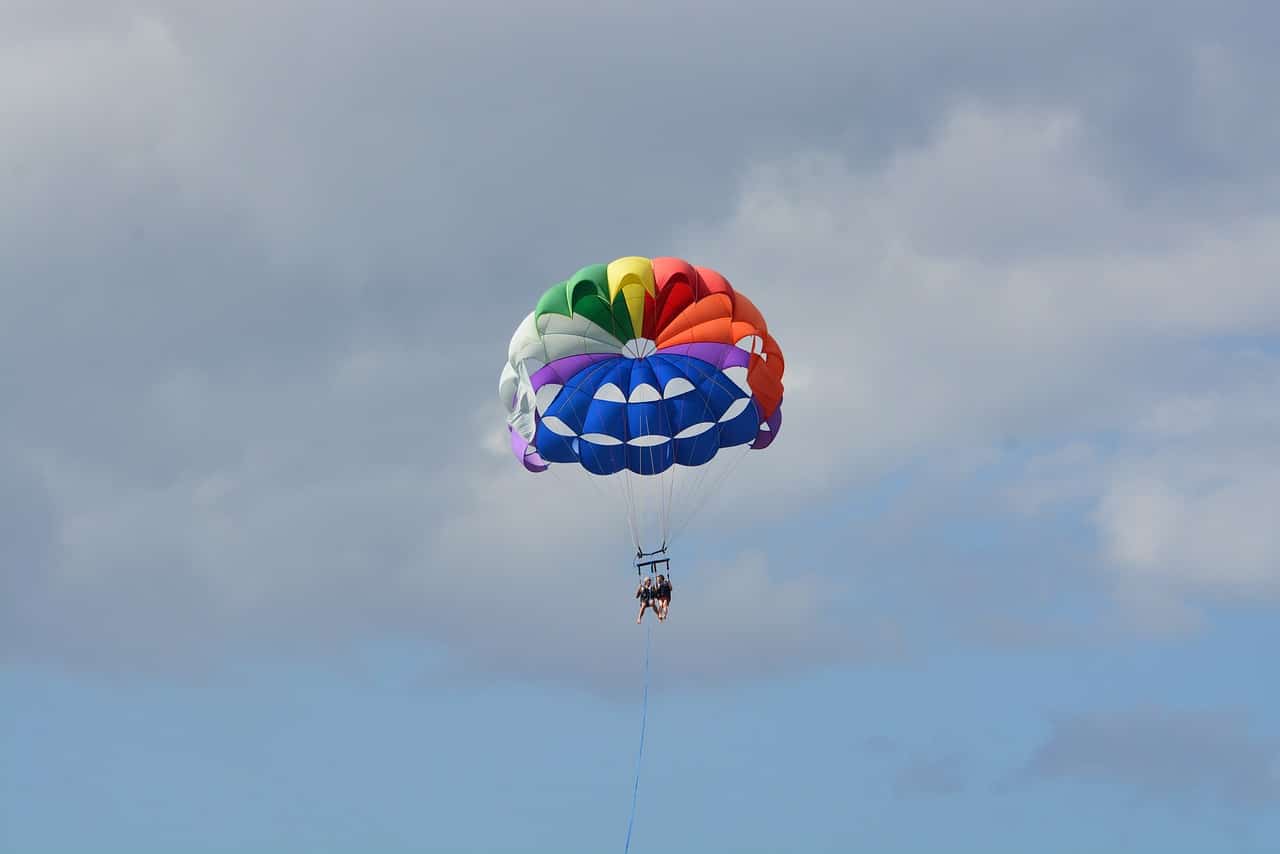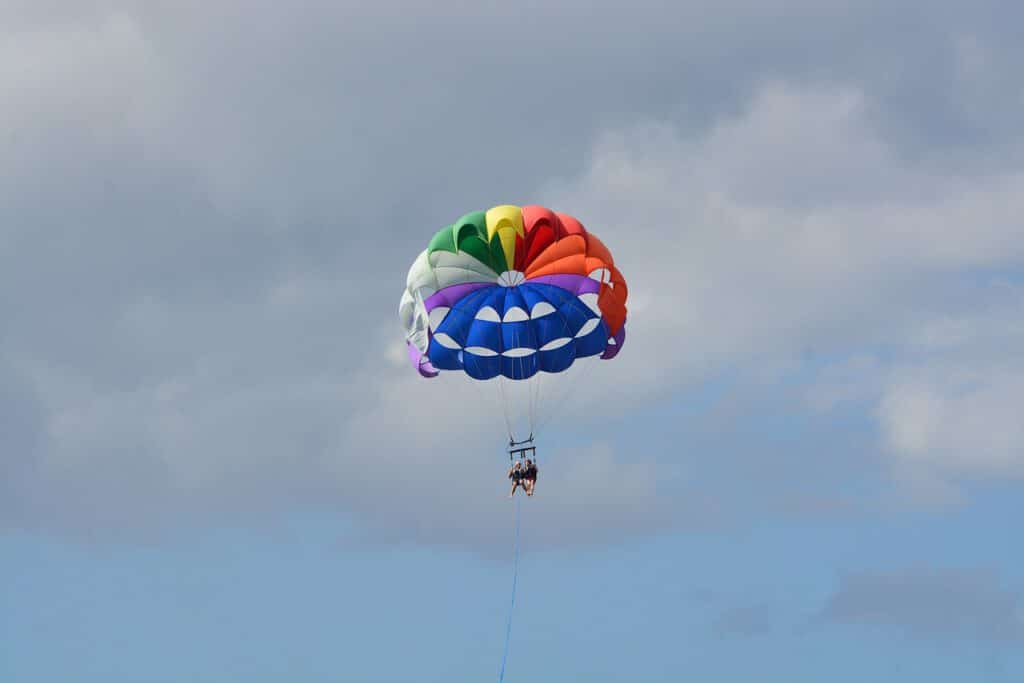 There's a lot of hype surrounding parasailing from all the commercials that you have seen in past summers. Parasailing is advertised as being fun and relaxing. The common depiction shows someone blissfully floating through the sky over a peaceful body of water, all while peacefully admiring the view. This depiction is not my parasailing experience.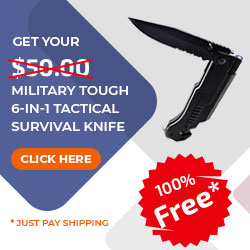 My Parasailing Myrtle Beach experience began by having to wake up at 5 am, which is never fun on vacation. I managed to make it out of bed and to my meeting spot with a few minutes to spare before everyone else arrived for our scheduled tour. After waiting around with the group of other people who were scheduled to parasail that day, we began our adventure by boarding the boat.
Last time I had gotten on a boat, I was still in high school and it was more than half a decade ago – so the experience is slightly less vivid. Thankfully my memories come rushing back as soon as our tour guide pulls out the bingo board. Pretty much every boat tour I have ever been on has included bingo, but they are usually boards that you would play with your grandma at a family reunion picnic. Not in Myrtle Beach! The bingo board our guide pulls out is clearly designed for an adult crowd – complete with drinks in the corner of each square. All of the squares are already pre-marked with numbers and letters, and we all received a bingo card as soon as we were on board.
I assumed that we would be playing a few rounds after we got away from land to pass the time, but I was wrong once again. The boat quickly pulled up alongside an older couple who were parasailing, took their payment and the bingo board along with it. It was now my turn to enjoy the ultimate Myrtle Beach experience.
Before they would let me up on deck, they gave me a quick lesson on how the harness worked and what I should expect once I reached my highest point. They also inspected my life jacket, making sure that it fit securely before I went up. Finally, they had me put on my harness and took me to the side of the boat.
My heart was racing as they helped get my parachute attached to the board. The entire time I was thinking about how I couldn't believe this was actually happening to me – but at the same time, I was determined to give it my best shot.
I held onto the boat until they signaled for me to let go and jumped clear of the side. The feeling of falling through the air is hard to describe, but there is no doubt that it feels pretty amazing. It definitely makes you feel like you are on top of the world!
It didn't take long for me to see why parasailing in Myrtle Beach is so popular. I felt just like the movies show during the big finale when my parachute finally opened and I floated down towards the water.
I was fortunate enough to be able to share this experience with all of you thanks to Parasail Myrtle Beach . If you are ever in the area, I hope that you are lucky enough to have this same wonderful parasailing Myrtle Beach memory!
Myrtle Beach Parasailing
If you are wondering where to go parasailing in myrtle beach, then look no further. If you are looking for something exciting to do on vacation with lots of memories that will last forever, then try out parasailing myrtle beach !
Parasail Myrtle Beach is the best place to parasail in Myrtle Beach because you will have an amazing time! The experienced staff provides the best customer service, and will keep you safe while having a blast. Our mission is to offer an exciting activity for everyone – all ages love Parasailing Myrtle Beach !
With world class views of the Atlantic Ocean, there are few activities that can compare to parasailing. Parasail Myrtle Beach offers a thrilling ride above the ocean waves, and you will even get a bird's eye view of where you are staying while on vacation. Guests from all over the world flock to Myrtle Beach for an exciting parasailing experience! We can't wait to help turn your dream of flying into a reality.
Myrtle Beach Parasailing will make sure you have a great time parasailing in Myrtle Beach . We offer competitive rates for our customers, and even provide online discounts. You can save up to 50% off when you visit us using one of the coupons we have posted on our site! It is very easy to become a part of the Parasail Myrtle Beach family. All you have to do is book your reservation online, pack your bag, bring along some sunscreen and excitement, and let us provide the rest!
FAQ People ask me about parasailing in Myrtle Beach
Is there a weight limit for parasailing in Myrtle Beach?
There is no specific weight limit for parasailing in Myrtle Beach, but anyone weighing less than 100 lbs. should have a guardian present when flying solo.
How difficult is it to parasail in Myrtle Beach?
Parasailing Myrtle Beach is easy! Anyone can do it, so don't let the fear of heights keep you from enjoying this thrilling experience. Our friendly staff will walk you through the process, and your safety is our top priority.
What areas in Myrtle Beach can I go parasailing?
You can fly over all of the resorts along the Grand Strand when you do parasailing in Myrtle Beach! Most of our flights take place within a few miles of the coast, so you will have an amazing view no matter where you are staying.
Can I parasail at night in Myrtle Beach?
The beach is beautiful during the day, but parasailing in Myrtle Beach offers a whole new perspective when you fly at sunset. There is nothing that compares to the view of the ocean and the sunset during our evening flights.
Where can I find Parasail Myrtle Beach coupons?
Parasailing Myrtle Beach offers numerous discounts to help you save on your experience. We post our latest deals and specials on our website, so make sure you sign up for email updates to see what is going on with Parasail Myrtle Beach .
What should I wear parasailing in Myrtle Beach?
If you are going to fly during the day, then dress for the beach. Wear that cute two-piece and a pair of sandals to have a great time! If you are flying at sunset, be prepared for cooler weather so bring a light sweater or sweatshirt along with you. Don't forget to put on a layer of sunscreen, and you will have a perfect time parasailing in Myrtle Beach!
Can I wear glasses parasailing in Myrtle Beach?
Yes, but only if they are secured with a strap or a string. If your glasses slip off, then they could get lost in the ocean below . Make sure your glasses are securely fastened on your head to ensure they don't fall off during flight.
What should I do if my parasailing harness won't fit?
You can always visit us before you fly and we can help make some quick adjustments to the belt! If you aren't able to come back before your scheduled flight, then just let us know ahead of time about the problem.
Can infants or children fly parasailing in Myrtle Beach?
Children who weigh less than 100 lbs. are welcome to fly with Parasail Myrtle Beach! We suggest that all children under 18 years old be accompanied by an adult for assistance.
How long is parasailing Myrtle Beach?
You will be in the air for about 15 minutes on each flight, so you can extend your time if you'd like!
What should I do after parasailing Myrtle Beach?
When you are ready to head back to the beach, our boat will meet us and bring us all back! We take care of everything from beginning to end , so this is the perfect day to relax and enjoy yourself.
How old do you have to be to parasail in Myrtle Beach?
You must be at least 12 years old to parasail in Myrtle Beach, but if you are under 18 years old, you will need to have a guardian present with you on the flight . You must also be at least 100 lbs.
What should I bring parasailing in Myrtle Beach?
You don't need to worry about packing anything because all of your needs are provided for when you fly with us! You won't be allowed to fly if you have any loose items with you , so make sure to leave everything behind.
Remember that parasailing in Myrtle Beach is an exciting and thrilling experience that will stay with you for a lifetime! This is not just another attraction; it is the ultimate way to experience the beauty of our coastal town as you fly high above the picturesque sand and sea .
Can I bring a camera parasailing in Myrtle Beach?
Yes, but we strongly recommend that you leave any loose items on the boat when you go up. We will provide one Parasail Myrtle Beach guest with a complimentary disposable waterproof camera so don't forget to take it! The pictures will help remind you of your incredible time in the sky .
Do I need to make a reservation parasailing in Myrtle Beach?
You are welcome to come any time you'd like, but keep in mind that the boats are full on the weekends so it is best to plan your trip during the week if you want to fly with us.