Would you go out and buy the most expensive backpacking tent money can buy? Then cut it up with a pair of scissors into little ribbons, then burn it one piece at a time?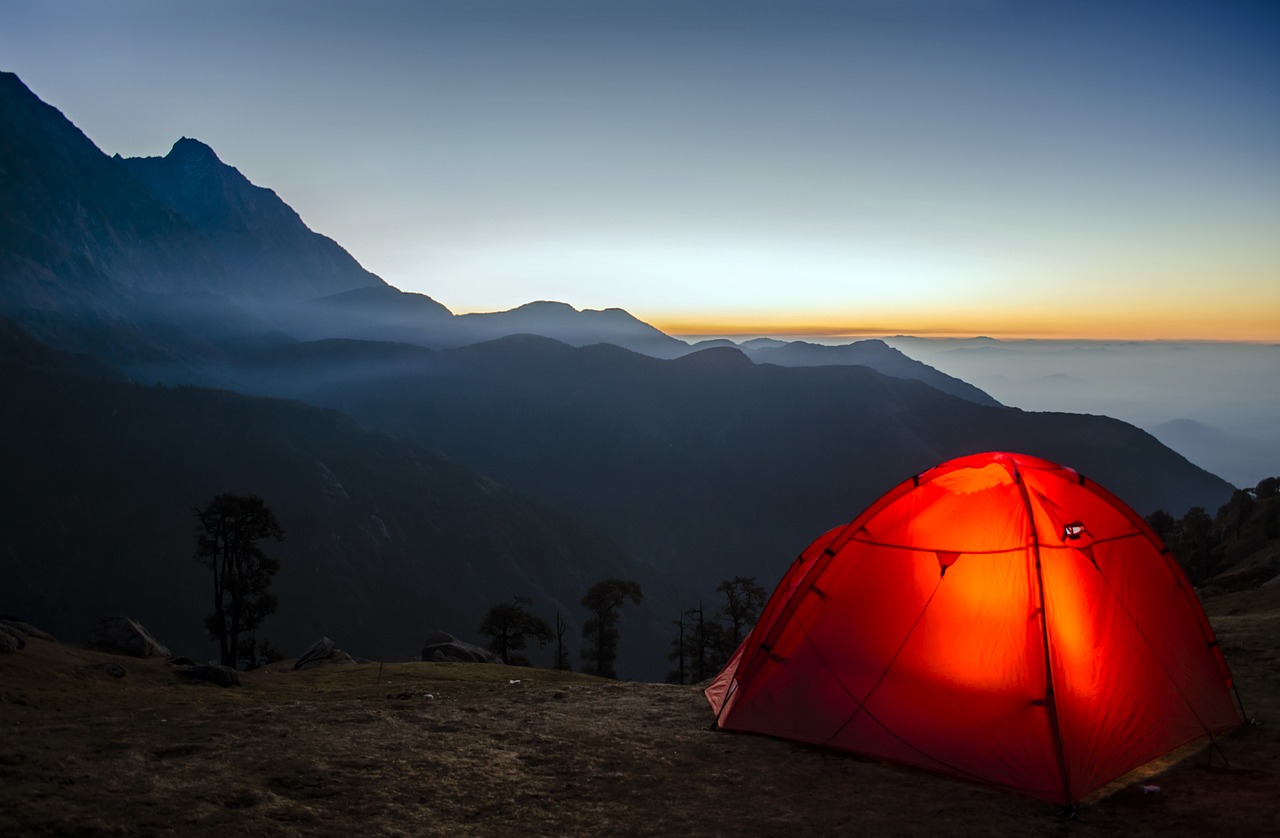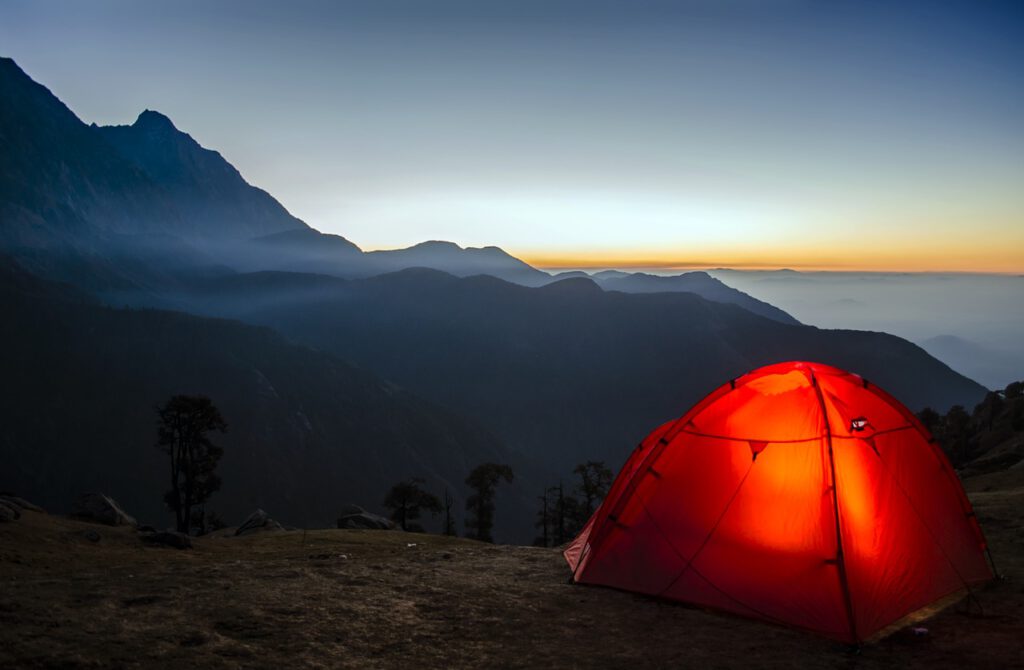 Probaby no. If you are like the rest of us who enjoy backpacking you probably would only buy the best quality tent for your money and take good care of it. So what is "the best" when it comes to backpacking tents? It really depends on your budget, how much room you need and what type of features you want and don't want. There are many tent manufactures that produce a high quality backpacking tent that won't break the bank.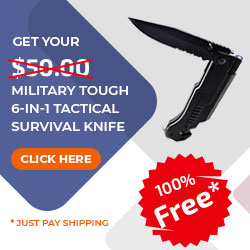 Tents come in different types:
dome/tarp. This type of tent is so light weight that it would probably be hard to find one under 3 pounds. Some dome tents barely come in over 1 pound per person. The drawback with this type of tent is that they are usually very expensive, offer little or no protection from the elements and don't provide any privacy. They are great for people who are always in warm climates, don't mind being exposed to bugs, rain and winter weather if necessary. But they are very good for fast packing when every ounce counts.
single walled/double walled. If you have ever been in one of these tents it is almost sounds like a rain storm outside. They are not very good at keeping out the elements and they tend to hold moisture making condensation build up on every surface inside the tent. But there are ways around this, with proper gear ventilation under your backpacking mattress this will solve most if not all of the problems. The slickest is probably the single wall tent, you never have to worry about rain and snow getting in and it's very easy to set up and take down. But like most flat tarps this type of backpacking tent can be a fiddle at times with gear storage and setting up compared to other types of tents.
free standing or non free standing. These are your standard type of tent you see in most campsites. They are what comes to mind when you hear the words "backpacking tent". Free standing tents are generally easier to set up then non free standing tents that require staking down, but are usually more expensive. Of course lighter is better which brings us back to my point about double walled free standing tents. A backpacking tent that is double walled that comes with stakes and is free standing will cost more then the same type of tent that does not offer these features. They are easier to pack up, lighter and come with everything you need to set it up in 3 minutes or less.
What is a good tent weight for backpacking?
That depends on what you are backpacking with and how much food and gear you need to carry. A good rule of thumb is that the tent should not weigh any more then 2 pounds per person, which would leave about 4 pounds for all your other gear and food. This will ensure a safe and comfortable trip for everyone involved. If you can't find a backpacking tent that weighs this much or close to it then you can always save weight by cutting out your sleeping pad, lighter weight gear and food.
What is the lightest tent for backpacking?
There really isn't a "lightest" backpacking tent when it comes down to it. But there are a few tents on the market that are in the 20 ounce range. This can be an advantage if you are looking for a free standing tent that doesn't weigh much and compacts into a small package to carry in your backpack.
What is the best backpacking tent under $200?
There are many tents on the market today that cost less then $200. It would be very hard to say which is the best one. But I can give you our opinion on a few of them and for those who want to do more research, there are many other articles on this subject to choose from.
The first backpacking tent that comes to mind is the Eureka! Solitaire . This tent has been around for years and has proven itself time again when it comes down to reliability and durability. It's a good choice for any backpacking trip no matter how long or short the distance is. It is a very lightweight, weighing in at around 2 pounds and can fit up to 3 people if needed. This tent does not come with stakes, but they are available if you want to buy them separately.
Another one of our favorite choices is the Wenzel Klondike . This tent has been around for a long time as well, since 1959 to be exact. It was designed after the North American Timber Frame style of building. So it's very durable and can take on almost any type of weather Mother Nature throws at you. It has a steel frame that can support up to 8 people. The fabric is a lightweight 70D rip-stop polyester with a 2000mm waterproof protection. This backpacking tent also compacts down into a small size for easy transport in most types of packs and bags.
What's the difference between a camping tent and a backpacking tent?
This is a simple question with a not so simple answer. We try to put it as simply as possible and leave the technical mumbo jumbo up to those who know all about it and can explain it better then I ever could.
A camping tent will be much larger, sturdier and more expensive than most backpacking tents. They are ideal for car camping or other types of camping in a place where weight and size doesn't matter. The main difference is that backpacking tents will come with smaller poles, fabrics and less lining to save on weight and bulk. Most camping tents will not be free standing and need to be staked in order to set up. This makes the camping tents more complex to set up and take down.
Many people will own a camping tent and a backpacking tent. That way they can just pack up their smaller size, lighter weight backpacking tent and head out for the weekend. Then when it's time to settle in and really enjoy your trip, they can break out their larger, heavier camping tent and have room for all their friends.
What is the best two person backpacking tent?
There are many great options to choose from, if you are looking for a 2-person backpacking tent. We will take a look at a few of our favorites and give you a little information about each one so that it's easier to make a decision.
The first one we will mention is the Salewa Vesper . This tent weighs in at just under 3 pounds and comes with all of the accessories you need to assemble it. It has a very large interior with a floor space of about 38 square feet. It has a room divider in case your partner wants some privacy. This is a free standing tent, so no need to worry about finding a perfect location to set it up.
The MSR Twin Sisters is another amazing 2-person backpacking tent. It comes with all of the necessary accessories and can be assembled with ease. It has a room divider that you can add or take away with one simple bungee cord. This backpacking tent is very lightweight only weighing in at around 2 pounds. It provides 38 square feet of floor space to move around without being too cramped up.
The Nemo Hornet is the final 2 person backpacking tent that we are going to list today. It has fully enclosed mesh walls to keep out any insects or other pests you might come across. It has a one door and vestibule design that provides plenty of room to store all your gear. This tent only weighs 1-pound 8ounces, so it's very lightweight as well.
What should I look for when buying a backpacking tent?
There are many things you need to consider when looking for a backpacking tent as opposed to a camping tent. We have mentioned some of the more important features below that you should look for when making your purchase decision.
Weight and Size – You will have to make sure you can carry whatever type of backpack or gear bag it is that you plan on transporting your new backpacking tent in. With that in mind, you will need to make sure the weight of the tent isn't too heavy. Many tents today are lightweight and compact which makes them an ideal choice for backpacking.
Price – We all know that price can play a big role when it comes time to purchase any type of outdoor gear or equipment. You want to make sure you are getting a good value for your money and not paying too much. We will try to list some of the best options available today so you can have a better idea of what's out there.
Ease of set-up – This is an important feature that needs to be considered as well. At first, it might be a little difficult to set-up your tent, but once you have done it a few times it will become much easier. Many of today's backpacking tents are very easy to assemble especially compared to the larger camping tents.
Do you realy need a backpacking tent?
Before we can answer that question it's best we explain what a backpacking tent is and the difference between camping tents. If you are simply going up into the mountains for a quick weekend getaway then you probably won't need anything other than a simple tent to protect you from bad weather or insects.
However, if you are planning on spending a little bit more time out in the wilderness and want to explore some new territory then you will most likely need a backpacking tent. These tents are lightweight and easily carried by backpackers who plan on covering many miles over a course of several days.
Camping tents tend to be larger and heavier than backpacking tents as they need to supply more room and protection from the elements. They do have an advantage over backpacking tents in that they are easier to set up on a moment's notice compared a backpacking tent.
What is better a free standing or non-free standing camping tent?
This comes down to personal preference more than anything else. If you plan on going camping in one location and staying there for the entire weekend then you might want to consider a non-free standing tent. These tents are great because they can be setup nearly anywhere making them very versatile.
However, if you plan on hiking several miles into your camping site then it might be best to use a free standing tent which is much easier to assemble. These tents are much lighter and compact making them the choice of most backpackers.